Image Copyrights and Copyright Trolling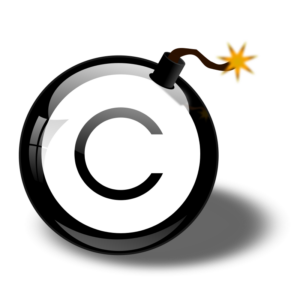 I think the simplicity of access to images on the internet makes it easy for us to forget. These images, generally speaking, belong to someone else. Image copyrights are as valid as music rights, or rights of a person over a film. With Google Images these days, it's all too easy to do a keyword search and grab the first image that works for our blog / software / project, etc, and forget that the image is potentially copyrighted to someone else.
But who cares?
To be honest, I kind of thought that a few days ago… who cares? Worst case scenario I'll be contacted and asked to remove an image.
Then I came across this article, "Copyright Infringement Penalties are Scary" and my mind has forever been changed.
Q: What's lamer than a crappy photo of Nebraska? A: Having to pay $8,000 in copyright infringement penalties for it. This is a lesson we recently learned the hard way, and if you have (or contribute to) a blog you might want to read about our story so that you never, ever make the same mistake we did.
After reading this article I started to Google for image copyright trolling and found that this issue is not an isolated case. Bloggers all across the world are being extorted by copyright trolls for large sums of money, even if they are just casual weekend bloggers and not making a business off their work. Scary stuff.
As a result I have been doing a cleaning up of my websites and removing all images that I believe may have been copyright.
Creative Commons Image Sources
So where can we find images that we can use freely on blogs or other projects? Let's go over that.
Rather then doing a big exhaustive list of websites, most of which suck, I am going to go over the sites that I believe serve the best, top quality content, with strong ease of access.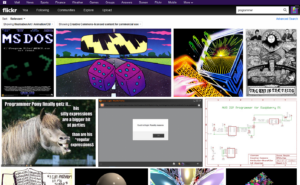 Flickr is a well known site and has essentially become the central photo repository of the internet. It is to photography and images what YouTube is to videos.
A great tool that is often overlooked on sites like this is the advanced search functionality. Flickr's advanced search allows us to choose "Creative Commons" as a filter and even further filter it down to the sub licenses of CC such as free for commercial use, etc. Perfect. With this tool we have at our finger tips a huge array of creative commons images and photos. There is an additional filter I find useful to separate illustrations from photos. This is a great way to find clip-art esque images as opposed to real life photos.
Pros
Huge community driven site, tons of content
Strong advanced search tool to find CC content
Most content is well tagged and commented to aid search
Cons
Community driven means no quality control, lots of content is not really usable for blogs / etc
Massive content has little to no sorting meaning you may need to scroll through countless pages to find what you want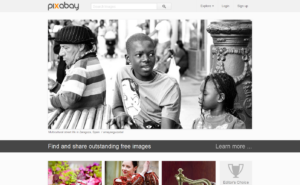 Pixabay is an awesome site that is 100% dedicated to free and royalty free image distibution. Although there are a lot of sites like this, it seems like the majority of them are fronts to sell a product. Pixabay is straight up with their offering, with the only hoop you need to jump through is the occasional captcha to prevent their site being scraped.
pixabay.com – Free Images

Finding free images of high quality is a tedious task – due to copyright issues, attribution requirements, or simply the lack of quality. This inspired us to create Pixabay – a repository for stunning public domain pictures. Your source for free vectors, free drawings and free photos.

You can freely use any image from this website in digital and printed format, for personal and commercial use, without attribution requirement to the original author.
Where pixabay distinguishes itself from Flickr is the abundance of good "stock photo art" for lack of a better word. ie: It has the kind of images you are used to seeing on blogs. The stuff that usually costs $50 per image from stock photo sites.
Pros
Tons of free content, with no licensing requirements whatsoever
No registration required, no resolution limitations, no gimmicks
Over 150,000 images in database
Photo, Clip Art and Vector filter options
Cons
Not everything is well tagged which may make it difficult to find what you need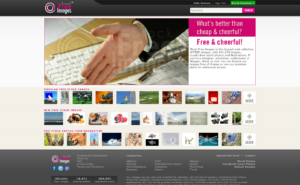 Although stockfreeimages.com has some debilitating features to try to sell a product, I have still found it to be one of the most useful sites for finding blogging related images and without a doubt has a huge repository of images and great search capabilities that it make it a useful contender.
is the largest web collection of FREE images, with 901,633 images, royalty-free stock photos and illustrations. If you're a designer, advertiser, webmaster or blogger, check us out! You can license our images free of charge or use our premium plans for enhanced access.
So what's the catch? You will need to complete a registration for this site, and the resolution available for free is limited. The images are perfect for an inline image on a blog or website, but if you are off looking for a 1024 pixel wide banner for a front page, or print quality photos, this site will fall short. Although registration is required, I will say that I have not received even a single spam email from these folks so it's not the end of the world.
Pros
Huge selection of free images, close to 1,000,000 images
Fairly well categorized and tagged for search
Great selection of real life photos, "stock photos", clipart style images, and more
Cons
Site requires registration to download
Downloads limited to small / web resolution images (ie: around 400px wide or high)
Lots of premium image ads/links that may be hard to discern from actual site content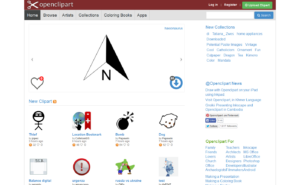 update 2020-01-06: Open Clip Art recently had some issues on their site. Following a long downtime, the site is back up, but is a bit of a mess compared to what it was. For an alternative source please check out https://www.clipsafari.com/ who are working to bring the Open Clip Art archive back to life!
If you are looking for something more cartoon/drawn rather then photo realistic then Open Clip Art is a great website to check out! It features thousands of free clipart images and has a ton of great features built into the site, completely hassle free. You can download the clipart in various sizes of bitmaps, get the original vector sources, and even edit the image right on the side in their online vector graphic editor.
This site is a community driven development meaning quality is hit and miss, but at least there is a nice selection of images to choose from and everything is well tagged and categorized for search.
Pros
Hassle free, no registration, no fake premium links
Well tagged and categorized
Download images in vector or various sized raster images
Cons
Community driven, so quality of images can be hit and miss.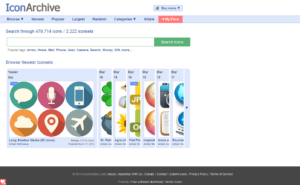 Last but certainly not least, www.iconarchive.com is a strong site offering hundreds of thousands of free icons. The icons on this site are organized into packs making it easy to find "themes" of icons for creating menus or following a certain look and feel across your site / app. If you aren't looking for a pack and just a specific icon then you can use the search functionality to find that 1 specific icon you need.
The site is community driven and completely hassle free. Even the advertisements to keep the site going, while there, are well tucked away and out of site unless specifically requested by the user.
Additionally, you may want to check out some of the ranking systems in the site, such as listing "Largest Packs" to find huge icon sets following a certain theme, or sorting by popularity to find extremely high quality icons that you will be surprised to believe are freely distributable!
Pros
Huge collection of almost 500,000 icons
Sorted into packs making it easy to find groups of like icons
Hassle free site, no registration required, no limits on downloads
Icons available in various formats (PNG, ICO, etc)
Cons
Individual icons in large packs aren't necessarily tagged well making specific searches difficult