What is Dynamic DNS (or DDNS)?
In short, the purpose of a Dynamic DNS service is to allow servers without a static IP to host services with minimal interruptions.
For example, people at home with ADSL internet providers may find that their IP is changing every so often. This is because your modem is using DHCP to have an IP address automatically issued to it at time of connection, rather then having a set & specific IP assigned to your account that doesn't change. If you attempt to host a web server or other services from your home network, you will often find that your IP address has changed and people will be unable to connect to your server.
A Dynamic DNS provider essentially acts as a middle man. You assign them as your websites nameservers and report your IP periodically to the DDNS provider. They in turn route that traffic to you.
For those technically inclined. a Dynamic DNS provider is actually just a DNS service which uses extremely short TTL (time to live) values. So, if there is an IP change, rather then waiting hours, if not days for that change to propagate, it will instead propagate within a minute or two to keep your site alive. Their is also typically software you can place on your server to report IP changes on an automated basis.
Free Dynamic DNS?
Nothing is free!
Well, in this case, it often is. A DNS server requires such little bandwidth that their are lots of people willing to give it away. Some of these are hobbyist sites doing it for fun and the odd donation, and other sites are commercial businesses using the service to generate traffic to sell other products such as domain name registrations, premium accounts, etc.
Port 80 Redirect
Another common problem with home operated web servers is that ISP's will block Port 80 to prevent their users from running web servers. A common feature of Dynamic DNS services is a port redirect to get around port 80 issues. So, you have someone access your site at www.yourdomain.com, and the service will forward that to some port of your choosing such as www.yourdomain.com:8080, and you can then either listen on this port instead, or have your router set to port forward that back to port 80 of your server.
Owned Domains vs Sub Domains
Although there are plenty of Free DDNS offers, we'll find that the majority of free services only allow you to create sub-domains under their free service, and using your own domain name is generally not supported. If you are looking for a quick address to point to your home server it might not matter if you have mysite.no-ip.com but if you are intending to host a public web server it may be important that www.mysite.com is supported by the feature set.
Namecheap.com Domain Registrar – Free Dynamic DNS
If you are planning on buying a custom domain anyways that you intend to use with your Dynamic DNS service, then perhaps you should consider Namecheap. They are a highly reputable registrar with great prices (<$10 for .com's) and their service includes FREE Dynamic DNS routing as part of their DNS hosting package. It may save you the need to muck around with free 3rd party services!
If a free domain name is more your thing, check out our article – Review of the Best Free Top Level Domain Name (TLD) Providers
GNU Tomorrow's Dynamic DNS *Top Choices*
DNSExit.com
DNSExit.com is currently one of my favorites of the free dynamic dns services. They offer full DNS hosting for your own custom domains at no cost which is a rare service these days. If you do not own your own domain, do not fret, you can additionally choose to use a free subdomain from their 2 DDNS domain offerings (*.publicvm.com and linkpc.net).
Pros
Supports using your own domain name
Full set of DNS entry options (MX, TXT, SRV, etc)
Near 100% uptime and 4+ name servers for redundancy
Cons
No free port forwarding
Interface can be tricky. Sign up process for Dynamic DNS will try to get you to register a domain name with them which isn't 100% clear is optional.
DYNU.com
DYNU.com is service which boasts a set of free features that easily give it a top spot on this list. For no cost, you can get their dynamic DNS service for both first level and third level domains, unlimited sub domains for your domain, and a number of other server options including url and port forwarding. There is also all the DNS configuration options you could need including setting up MX records and things along that line. It also boasts one of the shortest TTL's of any of the services I have seen at 90s.
Pros
Free Dynamic DNS for your own domain name
Free Port & Url Forwarding services
Short TTL at 90s
Cons
Registering your domain creates an "order" and does not result in immediate activation
FreeDNS.afraid.org
FreeDNS.afraid.org is also on the top of my list. It has a bit of a unique and different approach with its dynamic DNS service in that the site is largely community driven. Users are able to sign up and use their own custom domains with the service, BUT, when they do so that domain becomes available to use by all other members. (A user can also opt to use their domain privately as a premium service). The result is that the site has a HUGE pool of domains to create sub-domains from. If you do not have your own domain you are free to create up to 5 sub-domains of any of the domains they have in the user pool.
Some of the domain options have great vanity qualities and are highly memorable, such as "pwnz.org", "undo.it" or "info.tm". The options are really virtually endless.
Pros
Can use your own domain name
Free port/url forwarding service
Close to 100,000 existing domains available for use
Funny and Useful domains (pwnz.org, info.tm, us.to, etc)
Cons
Adding your domain gives everyone else access to it
System-NS.com (Beta)
System-NS.com is a new site released in 2013 that is currently in Beta status. During the Beta, users are able to get a free account which allows for full DNS hosting (use your domain) for up to 5 domains, as well as the ability to use the servers as a secondary DNS if you are hosting your DNS elsewhere. There is also a basic Dynamic DNS service offering free sub-domains (all of "system-ns" based names) which seems to be limited to 1 account per user.
The pricing past their "Beta" phase in not quite clear, but if I understand correctly, all accounts created during Beta will receive a lifetime license with the existing functionality.
Pros
Hosted DNS allowing for Dynamic DNS updates through API
Up to 5 domains hosted as free service!
Use to host up to 10 Secondary DNS
Cons
In Beta status, possible bugs (although I didn't encounter any during testing)
Pricing change after Beta ends?
Doesn't include any DDNS update software, just an API which is good, but may pose issues to less technically inclined users.
CloudFlare
CloudFlare isn't really advertised or known for being a DNS hosting service so I originally missed this gem in my reviews.  CloudFlare's features work by taking over the DNS hosting of your website and then using their CDN to serve your content geographically and from a cache. However, you don't have to actually enable any of CloudFlare's features! Instead just can just use them as a free DNS host as part of their free plan. This includes a 5min TTL which is quite viable for Dynamic DNS and they offer support for the popular DDClient updating tool. One limitation with this service however is that you will need your own domain name. If you don't have one you can always grab a free domain name from TK/GL/MA/etc.
Pros
Completely free DNS hosting, unlimited domains. No premium charges unless you get into some of their advanced CDN features.
Low TTL & DDClient for Dynamic DNS support
Well established company. You know there is a lot of redundancy and they are going to be around for a long time!
Cons
No free subdomain offerings if you don't want to get your own domain name.
GNU Tomorrow's Dynamic DNS Notable Mentions
duckdns.org
duckdns.org is a free Dynamic DNS service offering accounts with up to 4 subdomains of duckdns.org. Optional donations will unlock more subdomains.
A great value added on this site is detailed instructions OS by OS of how to setup cron jobs to use their DDNS update API. They also include instructions for common "micro devices" like raspberry Pi or users on Amazon EC2.
The service is pretty barebones having no support for custom domains, no url/port forwarding, and only 1 domain to choose from for addresses. However, the service they do offer, they nail. Their dedication to simplicity, privacy, open source and maintaining a completely free service for the community have earned them a mention on our list.
no-ip.com

No-IP offers a free sub-domain based Dynamic DNS service. They also include port forwarding and url forwarding options which is not found on all other services which makes them a great choice if you're running a home network with blocked ports. Hosting your own domain name on no-ip is a premium service and free accounts require action every 30 days to keep it alive (via email).
dnsdynamic.org
dnsdynamic.org has a fairly basic DDNS offering allowing you to create unlimited sub-domains from their significant offering of domain name choices. The domain names are mostly utility focused such as "dnsget.org" and "sql01.com". A unique feature offered by this site which gets them on this list is a free VPN and free HTTP Proxy service! This is quite unique and a great value for a free service. Please note that the usage of the VPN and Proxy are limited and that any P2P or other forms of illegal / heavy traffic are disallowed. The service is meant mostly for web browsing / email and light usage.
changeip.com

www.changeip.com is another unlimited sub-domain based service. Using your own domain is a premium service at $6/yr. Their domain choice pool is quite large and features a large number of both utility and vanity type domain names. Getting started on change-ip was extremely quick and painless and I had my site up and running in no time at all.
duiadns.net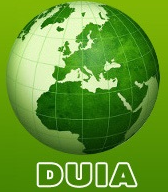 http://www.duiadns.net/ – Free service allowing up to 3 sub-domain based Dynamic DNS entries. Hosting your own domain is a premium service at 9,90EUR/yr
myonlineportal.net
myonlineportal.net/ is another site offering basic sub-domain focused Dynamic DNS. As a value add they also have a free HTTP Proxy server for it's users. This service is ad driven and as such, they have imposed a 1 year life on accounts in which you must visit the site again to renew your account. This seems fair enough, but could pose issues to users if they forget they need to return to the site to keep their account alive.
dns4e.com
dns4e.com offers free hosted DNS for your own custom domains, I believe for an unlimited number of domains but limited to 100,000 hits per month. For a DNS service 100,000 hits a month is plenty, but if you happen to run an extremely high volume website this may not be sufficient. The only thing I found holding DNS4E back is the reliance on the API to manage your account. The website itself is used to create a zone for your domain but then all DNS entries must be added and maintained via the API. There are fairly decent instructions for Linux-based users but the dependency on API calls may be a limitation to some less technical users, or windows users unable to "translate" the linux based instructions.
GSLB.me

GSLB.me offers full DNS hosting free for 1 domain with Dynamic DNS updating options. They also have a fairly unique feature for a free service allowing you to setup geohosts to load balance your server geographically. The service will determine the closest server to the user geographically and redirect the traffic accordingly. This essentially allows you to build your own CDN if you happen to have access / own multiple servers around the globe. I initially had trouble finding where on the website (prior to registering) it actually differentiated free vs premium offerings, but GSLB.me got a hold of me and let me know it is located on there features page. FYI – Registration required full billing information (not including CC / payment) which is significantly more information then is required for 99% of the other free DNS services out there.
Got More?
Please note that all sites submitted have been reviewed but that I won't be featuring every site on my list in interest of maintaining readability. Sites offering sub-domain only accounts with no value added or significant choice in domain names will be skipped, as well as services requiring you to purchase/transfer your domain registration to them to use.
Please suggest sites in the comments and I'll continue to review and add sites as we go!